ISAP Nations Yacht Race Final: Australia, Brazil, Triumph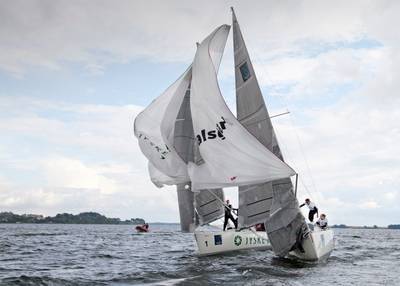 Brazil's women won a thrilling seventh edition of the ISAF Nations Cup final in Middelfart an hour after Australia's men had also upset the form book and the home favourites by whitewashing Denmark.

In the Open event, Australia's men won 3-0 against the dominant Denmark team, who had only lost two matches all week and had looked unstoppable. It is the first time Australia has won the Nations Cup.

David Gilmour, the 22-year-old skipper, and his crew: Ed Powys, tactician; Luke Payne, pit, Pete Nicholas and Alistair Marchesi, bow, were unstoppable.

In the Women's event, Brazil's young crew of: Juliana Senfft, the skipper; Marina Jardim, mainsail/tactician; Luciana Kopschitz, pit; Gabriela Nicolino, trimmer/tactics and Larissa Juk, bow, won the Brazil's first Nations Cup in either the Open or Women's event.

They had stumbled in the conclusion of their semi-final. Leading the USA 2-0 overnight, they lost the first match before winning 3-1 overall.

Denmark, skippered by the experienced Lotte Meldgaard, won their semi-final against Norway 3-0 and seemed to be on the way to their own whitewash with two clear wins, but Brazil had other ideas winning an incredible luffing duel down the final downwind straight. With Meldgaard's foredeck crew unable to keep the spinnaker from collapsing, Brazil closed and passed them, although Senfft lost her protest flag overboard in the process.