Australian Navy Saves Jellyfish Sting Victim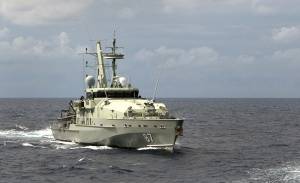 A rapid response by Royal Australian Navy patrol boat HMAS Pirie's crew may have saved the life of a crew member onboard an Australian fishing vessel, the Australian Department of Defense announced.

The Armidale Class patrol boat was conducting border protection operations when the ship received an urgent call for assistance from a fishing vessel stating a Darwin resident was believed to have been stung by a highly venomous Box Jellyfish, (Chironex fleckeri) while recovering nets near Bigge Island in the Kimberley region.

HMAS Pirie responded and its medical team boarded the fishing vessel to assess the patient, who was in severe pain.

The ship's medics consulted with Navy medical specialists via satellite telephone, concluding that the patient needed to be evacuated.

The location was beyond range for an aero-medical evacuation, however, so HMAS Pirie transported the patient to Darwin at top speed while the ship's medics provided treatment to the patient during the 16-hour transit.

The patient was handed over to St John Ambulance staff at Darwin Naval base early Sunday morning for a quick transport to Darwin hospital.

The Master of the fishing vessel Four Seasons expressed his thanks to HMAS Pirie personnel and Navy for their prompt and professional response.

Commanding Officer of HMAS Pirie, Lieutenant Commander Phil Draper, said providing assistance to personnel in the Australian maritime environment was all in a day's work for Navy. "My crew and I are pleased to have been able to assist," he said.

The patient was so impressed with the conduct of Pirie's crew that he expressed interest in joining the Navy, and is looking forward to visiting HMAS Pirie again in the coming week for a ship tour and a chance to meet with the crew.