Two Unusual Medevacs: Research Ship Physician, Australian Sailor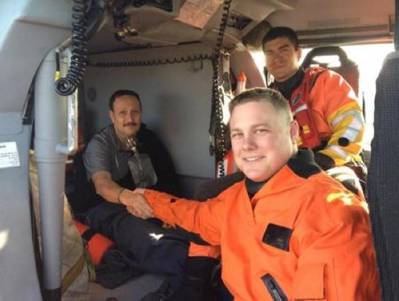 The ship's doctor on board a Norwegian research vessel in the Gulf of Mexico has been airlifted to hospital by a US Coastguard helicopter, and at the other end of the world, a sailor from an Australian warship remotely located off the country's far northwest coast also needed emergency medical assistance. Details as follows:

Physician heal thyself – GofM medevac
A Coast Guard flight mechanic, and Reeds Spring, Mo., native, Coast Guard Petty Officer 3rd Class Mitchell Ulrich, on his first call-out helped to medevac the ship's doctor from the Veritas Viking research vessel in the Gulf of Mexico, approximately 190 miles southeast of Galveston. The doctor, reportedly suffering heart-attack symptoms, was flown safely to the Scholes International Airport in Galveston where they were met by emergency medical services.

The newly qualified flight mechanic lowered the rescue swimmer more than 20 feet to the deck of the ship on his first search and rescue case, then successfully hoisted the swimmer and patient back up to the helicopter.


HMAS Armidale sailor airlifted via offshore rig in North West Shelf combined rescue
Following a combined operation involving a range of government and private agencies, a Royal Australian Navy sailor is now resting in hospital in Broome, Western Australia, following a casualty evacuation operation in Australia's far North West Shelf region.

The rescue occurred after the sailor, from the Royal Australian Navy's patrol boat HMAS Armidale, fell ill, requiring emergency medical assistance.

After a high-speed transit, the sailor was transferred from HMAS Armidale to the offshore drilling platform ENSCO 109 where he was flown by civilian helicopter to Truscott Air Base in the remote Kimberley region of Western Australia.

The Royal Flying Doctor Service met the sailor at Truscott and flew him on to Broome for treatment. The sailor is now recovering.