Australia's New Icebreaker Unveiled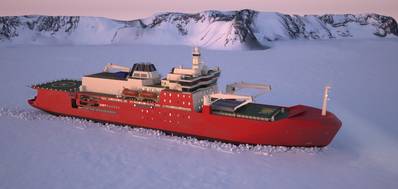 The Australian Government has provided the first look at Australia's new icebreaker, a ship it says will offer scientists unprecedented and extended access to the Southern Ocean and Antarctica.
Upon its commissioning, planned for October 2019, the custom-built ship will be home ported in Hobart, providing a modern platform for marine science research in both sea ice and open water and a moon pool for launching and retrieving remotely operated vehicles. A multi-beam bathymetric echo sounder will enable seafloor mapping, while portable and flexible science laboratories will offer scientists space to conduct research.
The new icebreaker will be faster (maximum speed of 16 knots, cruising speed of 12 knots), larger (156 meters long, with capacity to carry 96 containers), stronger (1.65-meter icebreaking capacity) and offer increased endurance compared with the Aurora Australis which has been in service in the Southern Ocean since 1989.
The investment by the Australian Government will form the centerpiece of Australia's Antarctic presence and influence the shape of Australia's Antarctic program for decades to come, according to the Australian Department of Defense.
"We are a very staunch and committed supporter of the Antarctic treaty system. We are committed to Antarctica remaining a natural reserve devoted to science and to peace. We have always been recognized as a leader in Antarctica. The Australian Government is absolutely committed to that continuing," said Australia Prime Minister Malcolm Turnbull in a speech announcing the new ship.
Turnbull noted that the Australian government has committed $87 million to its Antarctic interests for various projects.
The procurement for the new icebreaker represents the single largest investment in the history of Australia's Antarctic program, with additional funding committed by the Australian Government to modernize shore-side infrastructure and equipment at Australia's Antarctic stations and in Hobart.
Australian company DMS Maritime Pty Ltd has been selected as preferred tenderer to undertake the ship design and building process, and will then operate and maintain the icebreaker.
The Department of the Environment and DMS Maritime Pty Ltd have recently commenced formal contract negotiations.
Subject to negotiations, the icebreaker will be built by Damen Shipyards.