Dubai Maritime City Authority Launches UAE-German Maritime Majlis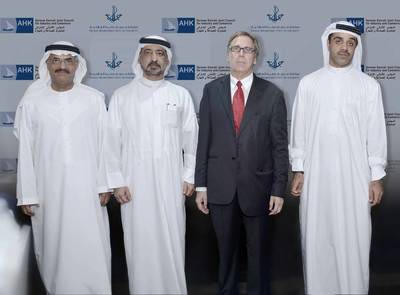 Dubai Maritime City Authority (DMCA), the government authority charged with regulating, coordinating and supervising all aspects of the maritime sector in Dubai, has announced the establishment of the UAE-German Maritime Majlis in cooperation with the German Emirati Joint Council for Industry & Commerce (AHK), during a special Business Dinner hosted by DMCA in Dubai under the patronage and in the presence of His Excellency Dr. Abdulla Belhaif Al Nuaimi, Minister of Public Works & Chairman of the National Transport Authority.

The dinner gathering was attended by H.E. Ahmed Butti Ahmed, Executive Chairman of Dubai Maritime City Authority, Dr. Peter Goepfrich, CEO of AHK, Amer Ali, Executive Director, Dubai Maritime City Authority, in addition to other senior officials from AHK and DMCA.

Ahmed Butti Ahmed said, "The UAE-German Maritime Majlis reflects the importance given by the DMCA in strengthening its international partnerships in order to achieve its strategic objectives aimed at establishing Dubai as a global maritime hub. We thank the AHK for its full support for this undertaking and assure our friends in Germany that Dubai is keen to protect and prosper their maritime interests. We look forward to addressing and resolving our mutual concerns via this Majlis."

The new Majlis is of great strategic importance as it serves as an actionable platform for the UAE and Germany to exchange best practices and experiences and address mutually important maritime-related topics as well as connect business people and decision makers from the maritime sectors of the two countries.

"The new Majlis is a significant initiative that will play a vital role in promoting maritime and economic relations between Germany and the United Arab Emirates. We are very proud of our partnership with DMCA, and we will work hard to strengthen our mutual relation to accomplish major achievements that will have a positive impact on the maritime sector in Germany and the UAE," said Dr. Peter Goepfrich.

The UAE-German Maritime Majlis focuses on exploring the mutual maritime investment opportunities and creating a collaborative framework to exchange best practices and experiences and discuss the highest standards of maritime safety as well as many other issues related to marine crafts licensing and registration and the global maritime sector. The new Majlis is expected to have a strong impact on consolidating Dubai's position as an international maritime hub.