NV Charts Bermuda Islands Chart Set Available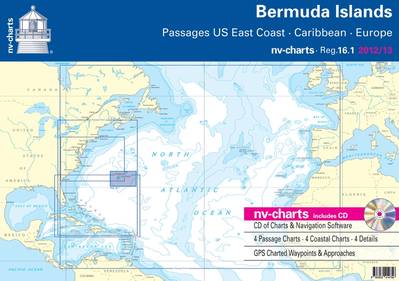 NV Charts offers detailed chart set for the Bermuda Islands in paper and instant-download digital format for use with chartplotters, PCs, and mobile devices with NV Charts' FREE NV App.

NV Charts' Region 16.1 chart set for the Bermuda Islands is offered exclusively by NV Charts, a global supplier of precision charting products for mariners. The new Bermuda chart set, Region 16.1, is the latest and most complete charting package for the navigationally-hazardous Bermuda islands to appear in many years, and is more complete and detailed than the limited charting resources for Bermuda that have been available for so long. Region 16.1 is a multi-faceted package of paper and digital charts packed with additional information including plotted waypoints, more distinctive shore and shallows cartography, aids to navigation and light characteristics, tidal information, and more.

Bermuda is, as many mariners know, surrounded by a deadly ring of coral reefs, and the principal harbors, St. George's and Hamilton, can only be accessed through a single opening on the northeast side of the archipelago, which then splits into two channels that direct vessels into St. George's or around the inside channel between the ring of reefs and the islands themselves to Hamilton. Virtually all vessels from sailboats to cruise ships must follow the same routes, and the many shipwrecks peppering the Bermuda island waters are testament to the strict adherence to marked routes necessary for safe navigation, and the consequences of straying from the established channels.


NV Charts' Bermuda Chart Set consists of 4 Passage Charts showing, in large scale, approaches to Bermuda from the U.S. Eastern Seaboard and Caribbean; 4 Coastal Charts detailing four quadrants of the Bermuda archipelago showing channels and approaches; and 4 Detailed charts of the harbors of St. George's, Hamilton, Castle Harbour, and Ireland Island. The chart set is designed in size for the active chart table, and each chart also displays GPS Charted Waypoints & Approaches for simplified and accurate navigation. Additionally, each paper chart set includes a CD of the charts in digital format for use on notebook computers and includes free charting software.

Additional features:
Based on BA data with a new layout, clear cartography and international chart standards;
Depths and heights in meters;
Channel markers with colored light indications;
Visually Distinct cartography
Lighthouses illustrate their light characteristics for better identification;
Perfect chart flow from one chart to the next;
Standardized chart scales;
Waypoints with latitudes and longitudes for GPS input
Arrow symbols show buoyage direction;
Tide information on each chart.
Points of Interest, including chandleries, etc.
NV Charts produces charts for mariners in paper, digital format for use on PCs, and provides a free App for navigation with all iOS and Android mobile devices. NV Charts products in digital format are also available on SD memory cards for chartplotters including Lowrance, Simrad, and B&G chartplotter systems, and are compatible with all instruments in the Lowrance HDS Series, Gen. 1 & 2; Simrad NSE, NSS, and NSO systems; and all B&G Zeus series systems.