EPA Awards 10th Grader for Work on Marine Oil Spills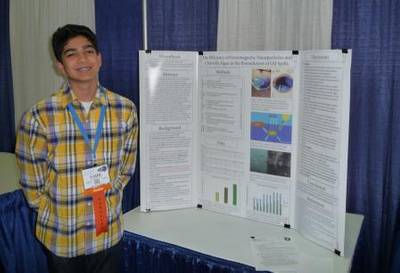 Oregon 10th grader Sahil Veeramoney received the U.S. Environmental Protection Agency (EPA), Region 10 President's Environmental Youth Award for his development of a novel and efficient method to clean up marine oil spills.
Veeramoney, a student at Oregon Episcopal School in Portland, Oregon, developed a method to remediate marine oil spills after studying the environmental impact of the 2010 Deepwater Horizon oil spill that occurred in the Gulf of Mexico and subsequent oil spills. Veeramoney researched different cleanup methods with a goal to develop one that could be used efficiently in the United States and worldwide.
Veeramoney focused on the use of ferromagnetic nanoparticles to magnetize and separate the oil. His detailed study, discussions with experts, and experimentation led him to create a novel and efficient method to use ferromagnetic nanoparticles and chlorella algae. In a laboratory setting, the results showed significant improvement in efficiency over current oil spill remediation methods.
"Sahil's research to protect water resources from oil spills is important for the Northwest where rivers, lakes and seas are a cornerstone of our ecosystems," said Dennis McLerran, EPA Regional Administrator for EPA Region 10. "It's exciting to see students linking current events and science to find solutions for our most pressing environmental issues."
He presented and discussed his project with several students, the general public and professionals during a period of four months in Portland, Houston and Los Angeles. This increased general awareness of the environmental impact of oil spills, the inefficiency of current methods of oil remediation and the need to develop more efficient methods of environmental management after an oil spill.
Veeramoney has won several awards at local, regional, state and international competitions and the Intel International Science and Engineering Fair.