AXSMarine Upgrades Tanker Broker Software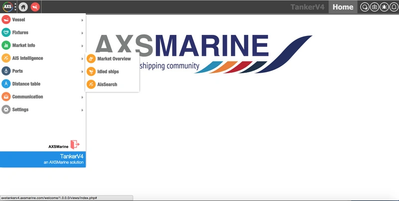 AXSMarine has launched an upgrade to AXSTanker – commonly known as AXSTanker4.0, a software solution for competitive shipbrokers in the Crude, Clean, Gas, Chemical and Product tanker space.
Within the AXSTanker community, brokers have the option to share vessel position updates with other members or keep them private for their own company's use.

Since its introduction in 2004, more than 100 shipbroking companies have signed up to AXSTanker. Over the next couple of months, AXSMarine will be rolling out the new AXSTanker 4.0 in phases, to more than 1,100 users across 30 cities around the world.

AXSTanker 4.0 has centralized all commercial vessel position searches into one screen called "Vessel Manager", where users can perform vessel deadweight (DWT), Fleet & Technical searches, and search on current AIS position information, thus managing everything on a single screen.

The look and feel of the user-interface has been updated, and provides a new browsing experience, bringing with it, many new functions and directly increasing the overall efficiency gains for end-users. Some users who have had the opportunity to try out AXSTanker 4.0, have indicated it can save them up to two hours per day compared with the previous version.

Some of the new features are:
Ability to have multiple DWT search/lists open at the same time
Perform statistical analysis on search results
AIS information, integrated throughout
Fixture entry and Search module – see all fixtures on one page, at each vessel and promply view similar fixtures.
Whiteboard – fully configurable at a user level
Port Information – see physical port/berth/waiting areas, vessels past/present and on their way + graphical presentation of port stay times.
Bunker prices in most main ports
Distance table improved interface
Inject to list functionality from single vessels, fleet code listings and map views

AXSTanker 4.0 will officially be available for all exisiting users and new users by end July 2015. The previous version of AXSTanker will be accessible in parallel until then.