Wavey Line Charts for Bahamas, Turks & Caicos, DR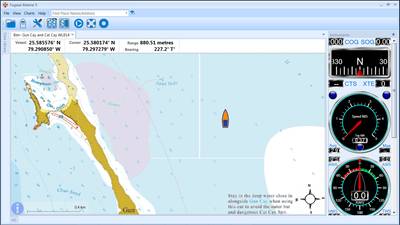 Leading Online Map Service Now Offers the Most Detailed Cartography of Bahamian and Northern Caribbean Waters.

Software manufacturer Northport Systems Inc. announced today that its popular Fugawi X-Traverse online map collection now supports Wavey Line high definition raster charts of the Bahamas, Turks & Caicos, and the north coast of the Dominican Republic. Providing mariners with access to the most accurate and up-to-date charts available for the northern Caribbean waters, Wavey Line Charts purchased from X-Traverse can be used with Fugawi Marine ENC™ and Geonav® MapMaster™ software for Windows® PC, as well as GPSNavX, MacENC™ software for Apple, and the iNavX™ App for the Apple iPhone™, iPod touch™ and iPad™. With an enabled X-Traverse account, mariners can now access highly affordable, downloadable, high definition maps of Bahamas waters, detailing hazards not found on any other chart, for safer and easier navigation.

"With the availability of Wavey Line raster charts for the X-Traverse platform, mariners with compatible navigation software now have access to the most up-to-date and complete charts for Bahamas and Turks & Caicos waters," said Robin Martel, president of Northport Systems. "We are pleased to be able to offer our customers the confidence and peace-of-mind that comes with the knowledge of reliable cartography!"

Ideal for local commercial fishing boats, freighters, sports fishermen and cruising boats, Wavey Line Charts are meticulously prepared and include the latest survey data, exceeding other charts in detail, accuracy and quality. Unlike other private regional charts, which provide only the basic cruising routes, Wavey Line charts show high definition detail of all harbors, anchorages and marinas, as well as principal reef cuts, backreef areas and off-reef trolling waters out to the 100-meter line.

The chart sets are available through the X-Traverse platform in four regions. The Northwest Bahamas region includes Grand Bahama, Abaco, Bimini, Berry and New Providence Islands; Central Bahamas includes Andros, Great Exuma and Exuma Cays, Long, Eleutheura and Cat Islands; Southeast Bahamas includes the southern islands with the Turks & Caicos and the Dominican Republic northern coast; and the complete region combines the waters of all three smaller regions into one package.

"We are very pleased to partner with Fugawi to make Wavey Line charts accessible through its acclaimed X-Traverse platform," said Bob Gascoine, founder, Wavey Line Charts. "We were the first private company to publish 'plotting grid' charts for GPS use. Starting in Turks & Caicos waters and working up through the Bahamas, this 21-year project has resulted in what we believe to be the most accurate and complete chart sets available. We are confident X-Traverse subscribers who navigate for leisure or commercially in these challenging waters will be very pleased with the quality of our charts and the increased safety factor that they provide!"

Using Fugawi X-Traverse, users can easily install and view Wavey Line High Definition raster charts on their choice of two devices including a PC, Mac and Apple iPad and iPhone. Once downloaded and saved locally on the hard drive, the maps can be viewed without an internet connection. Users can enter an unlimited number of waypoints and seamlessly pan and zoom, query objects, and plot and navigate waypoints. X-Traverse subscribers can also transfer waypoints, routes and tracks between compatible devices via iNavX; upload and share user data and photo waypoints with Facebook integration; and automatically retrieve GRIB weather data files. Users are emailed easy-to-follow instructions on downloading updated chart content free of charge for the duration of the subscription.

In addition to Wavey Line high definition charts of the Bahamas waters, X-Traverse provides access to award-winning Navionics cartography; N.V. Digital Caribbean and Europe charts; Hydrographic Service Digital Charts (CHS) of Canada; Blue Latitude Press' electronic charts for Mexico's Sea of Cortez and Pacific Mainland Coast; MAPTECH inland waterway charts; Hilton Realtime-Navigator offshore fishing maps; TRAK MAPS of Canadian lakes; Solteknik Hydrographica charts of Sweden; and Swedish Marine charts.

Pricing and Availability:
Available now from Fugawi X-Traverse, Wavey Line high definition raster charts are priced at US $49.95 each for Northwest Bahamas, Central Bahamas, and Southeast Bahamas with the Turks & Caicos Islands and the North Coast of the Dominican Republic. The complete region is available for $99.95. A Fugawi X-Traverse 12-month data subscription is available for US $10.00 and entitles users to view charts on two devices.