LPD San Antonio Declared 'Battle-efficient'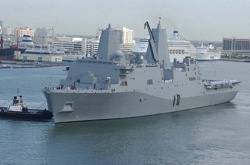 LPD San Antonio finally wins Battle Efficiency award
Naval Surface Force Atlantic announced that the ship, delivered prematurely and tormented by years of mechanical malfunctions and mishaps, has been awarded the Battle Efficiency award, or Battle "E" — a coveted honor given annually to units that demonstrate the highest standards of performance and efficiency.
"Everyone who believes that San Antonio is still broken and on the sidelines will now realize that we are not," said the ship's commanding officer, Cmdr. Neil Koprowski, quoted in a SURFLANT press release. "We won the Battle 'E.' We are back and ready to take on all missions."
The award caps a remarkable turnaround for the ship. Construction flaws and training issues have limited San Antonio to one deployment since its 2005 delivery to the Navy. The unending problems finally drove Fleet Forces Command chief Adm. John Harvey to order a command investigation into the ship's issues. The result: He took the ship out of the deployment rotation for 18 months of repairs, missing a 10½-month cruise as part of the Bataan Amphibious Ready Group. Its slot was taken by a sister ship, the Mesa Verde.