Battleship 'Texas' Flooding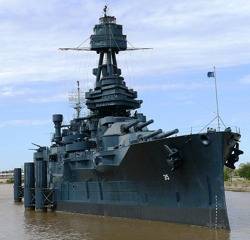 Extraordinary amounts of water leaking on board historic Battleship 'Texas' keep crew working 24/7
The historic ship, which just turned 100 years old in May, is only one of six remaining that served in both World War I and World War II.
'KHOU Houston' informs that the ship manager said crews noticed the unusual amount of water coming on board sometime on Saturday. Since then, workers have been at it day and night just trying to keep up.
A number of pumps have been brought to the site as the water is being directed back out into the channel. Staffers with Texas Parks and Wildlife, volunteers, a separate contractor and a salvage diving company have teamed up to take on this task.
"We're dealing with a 100-year-old vessel…so you're dealing with something that wasn't designed to last this long. We think we can probably manage a patch, a repair on it, but this is always a concern that this could sprout up again in a different place," said Andy Smith, the Ship Manager of Battleship Texas.
Workers still have not been able to pinpoint exactly where the leak is located. They are still working day and night to deal with the water that is coming on board.