Beached Yacht Salvage Pulls Crowd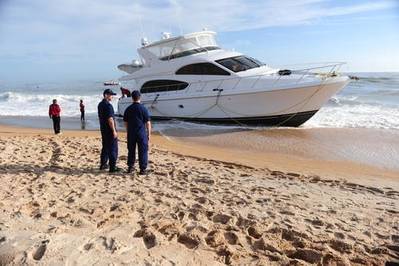 The 64-foot yacht 'Rays the Bar' driven ashore on Vilano Beach, Florida, center of attention for responders & spectators.

A response operation for a 64-foot yacht on the shoreline at Vilano Beach, Fla., involving the Coast Guard, St. Johns County Fire Rescue, St. Johns County Sheriffs, commercial salvage and environmental response companies drew a large crowd of spectators.

On passage from Boston to Fort Lauderdale in heavy seas and dense fog the vessel damaged its propellors as it ran aground near St. Augustine Inlet. The captain anchored the vessel and called for help, but the anchor broke free of the vessel, causing it to drift and eventually land on shore at Vilano Beach.

Coast Guard pollution responders arrived on scene with the vessel before sunrise Sunday to determine if there was any environmental impact. The vessel did not appear to be leaking fuel. The Coast Guardsmen monitored as an environmental response company pumped the majority of the yacht's fuel, about 450 gallons, off the vessel. A commercial salvage company attempted to tow the yacht out to sea at high tide Sunday morning, but the sea was too rough.

The owner of the yacht has contracted a different salvage company, which will attempt to remove the vessel at high tide Monday morning.

The Coast Guard is asking beach-goers and spectators to stay clear of the vessel since it may be unstable as a result of waves and changing tides, making it unsafe for those nearby.

The yacht's captain reported dense fog, rough seas and complications with the yacht's radar were all contributing factors for the accident.