QE2 to Become Museum Luxury Hotel in Dubai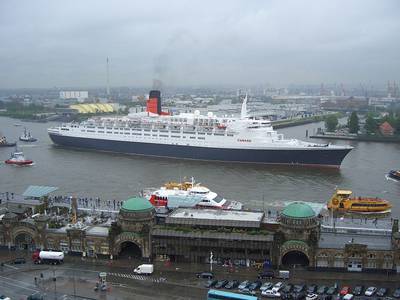 Port Rashid's planned Dubai Maritime Museum to give permanent home to the veteran cruise liner QE2
Istithmar World, DP World and the QE2 management announce the iconic QE2 is to have a permanent home at the heart of Port Rashid, the hub of cruising in the Middle East.
The vessel will be moored next to the original cruise terminal at Port Rashid and converted into a 300 room luxury hotel, with top quality lifestyle facilities, while the terminal itself will be developed into a maritime museum.
Once converted, the QE2 will once again display the ship's collection of art works and other historical assets acquired during nearly four decades as one of the world's leading ocean-going cruise liners.
The 293-metre long vessel, which in its heyday could accommodate more than 2,900 people, together with the connected maritime museum, will be a leading tourist attraction at Port Rashid and add further to the attractions it offers as the leading cruise destination in the Middle East.
DP World has been expanding Port Rashid's capacity to cater for the growing demand for cruise tourism. HE Sultan Ahmed Bin Sulayem, Chairman, Istithmar World, said: "The QE2 will be at the heart of Dubai in its permanent position at Port Rashid and contribute to the growth of Dubai as the city continues to develop and expand as a top tourist destination."