Arctic Walrus Change Mass Haul Out Behavior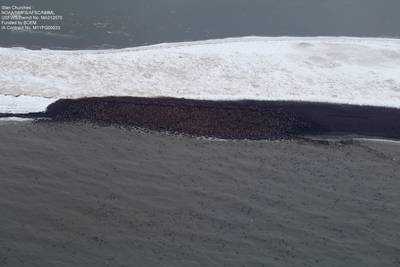 NOAA scientists participating in this year's annual Aerial Surveys of Arctic Marine Mammals project in Alaska say they have photographed an area where thousands of Pacific walruses haul out of the ocean on a remote barrier island in the Chukchi Sea, near Pt. Lay.

Scientists say it is difficult to provide an accurate count of the number of walruses densely packed together on coastal haulouts. Using aerial photographs, scientists estimated that this year's haulout at Pt. Lay initially contained 1,500 to 4,000 animals on Sept. 12. The number of walruses had increased to 5,500 to 8,000 when sighted on Sept. 22, and on Sept. 27, biologists estimated that there were approximately 10,000 walruses.

"Large walrus haulouts along the Alaskan coasts in the northeastern Chukchi Sea are a relatively new phenomenon," said Megan Ferguson, marine mammal scientist with NOAA Fisheries. "NOAA's research doesn't typically extend to studying walruses, since this is a species managed by the U.S. Fish and Wildlife Service (USFWS), so you can imagine how exciting it was for us to be able to collect such valuable data for our partner agencies."

In the past, walruses used sea ice habitat offshore in the northern Chukchi Sea as resting platforms in between dives to the bottom of the shallow Chukchi Sea where they feed on their preferred prey, including clams, snails and worms, during the summer and autumn. Due to loss of ice in offshore areas, walruses are foraging in more coastal areas and using beaches for resting (hauling out).

Conserving and restoring protected species such as whales is one of NOAA Fisheries' core missions. The goal of the surveys is to document the distribution and relative abundance of bowhead, gray, minke, fin whales, beluga whales and other marine mammals in areas of potential oil and natural gas exploration, development and production activities in the Alaskan Arctic.

This study is being funded and co-managed by the Bureau of Ocean Energy Management (BOEM)'s environmental studies program.