Beneteau Launches Oceanis 55 at Paris Show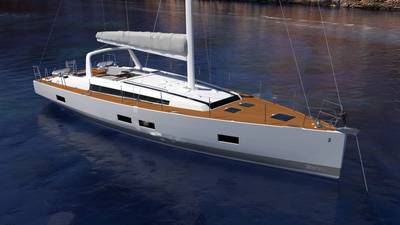 Beneteau's new cruising yacht the Oceanis 55 premiered at the Salon Nautique de Paris on December 7, 2012. The new model combines clean modern lines and contemporary style with the quality and comfort for which Beneteau is known.


The new model in the popular Oceanis range has been carefully designed to project a feeling of space, with a focus on light, which floods in through panoramic windows, deck windows, portholes and hatches. The L-shaped portside galley opens onto the saloon space, opening up the interior. The flexibility afforded by the main living space means that it can be used as a lounge, dining room or family area.


On the water, the Oceanis 55 is an easy yacht to sail; solutions that improve balance and performance include mast position, a small overlapping jib and mainsail sheet on an arch. It keeps a moderate heel angle thanks to the chine. All the sail controls have been brought to the rear and are situated around the helmsman, and the instrument panel is fitted into the helm station. The genoa winches centred in the cockpit provide both safety at sea and ease of use, perfectly in line with the requirements of a cruising crew, seeking to obtain maximum performance.


Considered features on the new model demonstrate Beneteau's commitment to exceeding its customers' expectations; blackout blinds on hatches keep the interior cool, large sunbathing platforms either side of the companionway give ample space to relax, handrails along the 45° companionway make access to the saloon safe under sail. At anchor, an electronic platform lowers to provide a sea level terrace from which to swim.


Families looking for a spacious yacht will like the choice of four or five cabins, each with an independent shower room. The standard interior layout boasts a light and airy main cabin, with panoramic views to the bow, and a choice of two aft cabins with a shower room, or three aft cabins, including one with a bunk bed, making for an extremely flexible interior.


"The words that come to mind when I think of the Oceanis 55 are sophistication and harmony. At sea, this 55-foot sailing yacht instantly stands out because of its handsome appearance and tight lines. With this new model, we have strived to build a yacht with a contemporary design and a strong character, that keeps the seafaring qualities, worthy of the Beneteau brand," said Thomas Gaillard, Oceanis and Sense Product Manager.