Parker Bestobell to Supply Valves for Canadian Tankers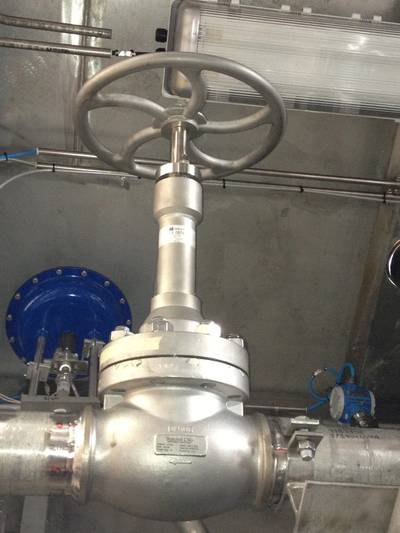 Parker Bestobell Marine has received its first order to supply its cryogenic fuel gas valves for new build tankers.

The two 15,000-dwt ice-class 1A asphalt and bitumen tankers have been ordered by Groupe Desgagnés of Canada and will be built at Besiktas shipyard in Turkey.

The ships will be equipped with dual-fuel engines allowing them to operate on LNG (Liquefied Natural Gas) and fuel oil, via 600 cbm gas storage tanks on the decks. Once built, the vessels will serve the Great Lakes and Canada's St. Lawrence River.

Because of the low winter temperatures in Canada, the valves and actuators have been specified to operate in temperatures as low as -40 Deg cent. This is not an issue for Parker Bestobell's cryogenic valves, which are designed to operate to temperatures as low as -196 Deg cent. The actuators were modified by the supplier to be able to operate down to -40 Deg cent.

Parker Bestobell Marine has experience of supplying cryogenic valves for extremely cold climates. The company has been appointed to supply its cryogenic globe and check valves for the cargo handling system on the Yamal series of LNG carriers being built at DSME shipyard in South Korea. The valves used in these vessels will be required to withstand winter temperatures as low as -54 Deg cent, as well as excessive build-up of ice.

Parker Bestobell Marine provides full firesafe valves based on a proven design that has been used for over a decade for LNG shipping applications.in low pressure fuel gas systems the company's valves are fitted in the tank room space between the LNG fuel tank and the engine and are a critical part of the piping system that feeds the LNG fuel to the vapourisers, which convert it back to a gas.

The company is committed to promoting the use of LNG as a fuel to help owners reduce both cost and emissions of CO2, NO and SO2.

The company has developed a brand new range of high pressure globe valves that are fitted in fuel gas systems for MAN ME-GI engines where natural gas is injected into the engine at over 300bar pressure. MAN has sold over 100 of this type of engine and this is driving a rapid increase in demand for Parker Bestobell Marine's high pressure cryogenic valves for these fuel gas systems