US Bicentennial – British Ship Present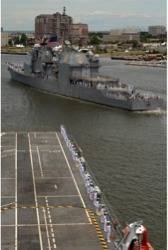 Royal Fleet Auxilliary (RFA) 'Argus' show the flag at Norfolk, Virginia naval base bicentennial celebrations
Entering Norfolk, Virginia, with a flash of flame from one of her two saluting guns, RFA Argus was one of scores of warships, sailing vessels and other craft which spent six days at the US naval base for a massive waterfront and seaborne festival to mark the bicentenary of the War of 1812.
An estimated 1.5 million people descended on the Hampton Roads and Chesapeake Bay area to watch festivities, which included parades of sail, and look around visiting vessels at the latest Op Sail 2012.
Personnel from Argus – who include not just her regular RFA and Royal Navy contingent, but also a Lynx flight from 815 Naval Air Squadron and a 30-strong disaster relief team drawn from MASF at Culdrose, ready for the Caribbean hurricane season – took part in festivities aboard the 28,000-tonne ship and ashore.
Festivities in Virginia were the second huge War of 1812 event involving Argus in a matter of days. Before sailing into Norfolk, the ship spent a week in the Big Apple for the 25th annual Fleet Week – another international naval celebration, which this year had an early-19th-Century twist.