Bollinger Delivers FRC Joseph Tezanos the US Coast Guard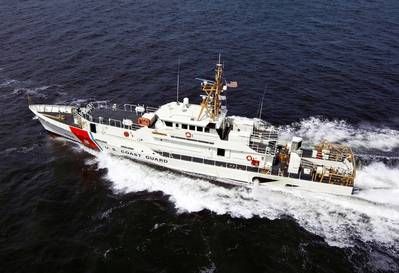 Bollinger Shipyards has delivered the 18th Fast Response Cutter (FRC), USCGC Joseph Tezanos, to the United States Coast Guard on June 22, 2016 in Key West, Fla. The vessel is scheduled to be commissioned in Puerto Rico during August 2016.
"We are pleased to announce the delivery of the latest FRC built by Bollinger Shipyards, the USCGC Joseph Tezanos, to the U.S. Coast Guard," said Bollinger president and CEO,
Ben Bordelon
, announcing the ship's delivery. "The fleet of FRCs already in commission have more than proven their worth with tons of narcotics seized, thousands of illegal aliens interdicted and many lives saved. We at Bollinger Shipyards are looking forward to hearing of the heroic exploits of the Joseph Tezanos as it joins the Coast Guard's operational fleet."
The 154-foot patrol craft USCGC Joseph Tezanos is the 18th vessel in the Coast Guard's Sentinel-class FRC program. To build the FRC, which has been described as an operational "game changer" by senior Coast Guard officials,
Bollinger used
a proven, in-service parent craft design based on the Damen Stan Patrol Boat 4708. According to the builder, it has a flank speed of 28 knots, state-of-the-art command, control, communications and
computer technology
and a stern launch system for the vessel's 26-foot cutter boat.
Each FRC is named for an enlisted Coast Guard hero who distinguished him or herself in the line of duty. The latest vessel is named after Coast Guard Hero Joseph Tezanos, who was awarded the Navy and Marine Corps medal for distinguished heroism while leading the rescue of more than 40 injured service members following the explosion of a Navy LST in Pearl Harbor in 1944.