Bollinger Shipyards Deliver DP 2 Tugboat to Crowley Maritime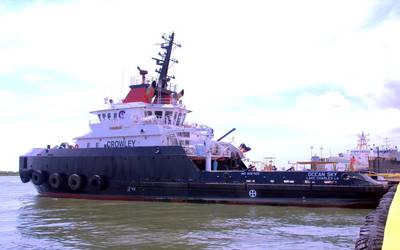 Bollinger Shipyards have delivered the DP 2 classed 'Ocean Sky', the fourth of four Ocean-class tugs for Crowley Maritime Corporation.
The first two Ocean Class vessels, the Ocean Wave and Ocean Wind, classed as DP1, were delivered in Q4 2012. Ocean Sky, sister vessel to the Ocean Sun, was delivered in May 2013.
At 156 feet in length, the Ocean Sky and Ocean Sun are 10 feet longer than the first two vessels and are rated at 10,880 HP. The vessels are outfitted for long-range, high-capacity ocean towing, rig moves, platform and floating production, storage and offloading (FPSO) unit tows, emergency response and firefighting.

All four vessels were built at Bollinger Marine Fabricators, LLC in Amelia, La.
In the picture: Ocean Sky the fourth Ocean Class tug built at Bollinger for Crowley, taking on stores at Port Fourchon, preparing for an evening departure.