BOM: Willard Marine Delivers SAR Boat to Navy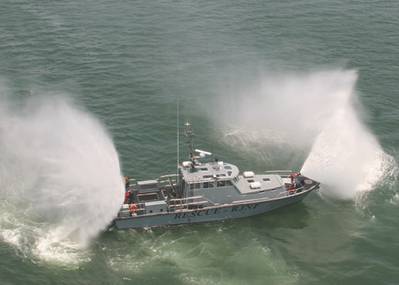 Willard Marine announced the acceptance trials of the 17-Meter Search and Rescue (SAR) boat to the U.S. Navy Office of Foreign Military Sales (FMS). In June, representatives from the U.S. Navy were in , at the Willard Marine facility to take part in the Acceptance Trials which took several days and showcased the full capabilities of the boat.
A team from Willard Marine will travel with the Navy later this year to conduct boat familiarization training with the customer.
The SAR is a 60 ft. vessel, which was based on the design of the 56 ft. Septar Surface Target hull that has been built for the U.S. Navy for many years.
This craft integrates a number of complex systems to meet the requirements of the contract.
Included is a fire fighting system powered by a Cummins 8.9 405 hp diesel engine driving a Hale pump with one remote controlled fire monitor station at the bow and two manual stations on the stern of the boat capable of shooting water 250 ft. @ 100 psi and 145ft. @ 100 psi. A water curtain system is included which envelopes the boat with a water spray for fighting shipboard fires. A 27 kw generator operates two A/C systems as well as other electrical components on the boat including a full kitchenette, berthing for seven and a full head, shower and MSD system.
The propulsion system for this vessel is comprised of twin Cummins QSC 8.3 600 hp diesel engines coupled to 322 water jets, and a bow thruster.
(Reprinted from the September 2008 edition of MarineNews)