Bonhomme Richard Back At Sea for RIMPAC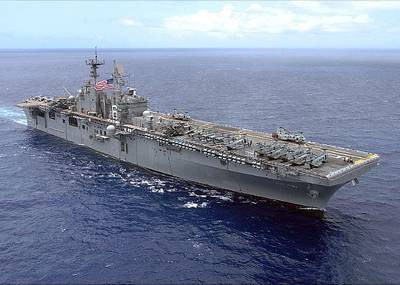 By Mass Communication Specialist 2nd Class Justin Webb, USS Bonhomme Richard Public Affairs
Following a 14-day port visit to , USS Bonhomme Richard (LHD 6) (BHR) returned to sea July 11 to participate in the Rim of the Pacific (RIMPAC) exercise.
BHR will spend several days conducting flight deck and well deck operations as well as other drills and evolutions in preparation for the tactical phase of the exercise.
"This is an excellent opportunity to prepare us for what we do anyway," said Capt. Neil R. Parrott, BHR commanding officer. "The ship just emerged from three months of maintenance availability in , so this allows us to get our skills back up to speed. As expected, though, BHR's crew has picked right back up without missing a beat."
During RIMPAC, BHR is transporting a special marine air ground task force, consisting of Marines from the 3rd Marine Regiment and Marine Heavy Helicopter Squadron (HMH) 362, as well as units from the Australian and Canadian Armies and three observers from the .
This interaction with partner nations, in addition to a number of joint and combined evolutions throughout the week, enhances BHR's interoperability with the other participating nations.
"Our maritime strategy is all about doing things with our partner nations," Parrott explained. "They depend on what we're doing whether it's a response to a natural disaster or humanitarian assistance, and we depend on them. We're not going to go it alone; we'll always do it with coalition partners.
"RIMPAC really strengthens our bonds with the participating nations and teaches us how to work together with other armed forces."