LR Class New Brazil-bound Damen PSV's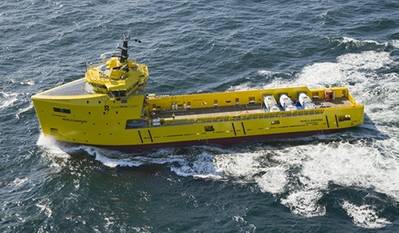 'World Diamond', the first of a series of six uniquely designed platform supply vessels (PSV), was christened recently by the ship's godmother, Princess Margareta of Romania, at Damen Shipyards' Galati in Romania. Each of these PSVs is classed by Lloyd's Register and is of 3,300 dwt with a breadth of 16.2 metres and draught of 6.5 metres.
The remaining five PSVs will be delivered to their owner, Norwegian offshore support company, World Wide Supply AS (WWS), later this year. Four of the vessels will support the oil multinational Petrobas in offshore Brazil from next year, including World Diamond, which is operating in the North Sea spot market for the rest of 2013.

Development of the new design involved extensive CAD/CAM modelling by Damen Shipyards Gorinchem in the Netherlands and rigorous model testing at MARIN (Maritime Research Institute Netherlands). The vessels have a deck load capacity of 1,500 tonnes and will carry cargoes ranging from fuel to drilling pipes, plus crews to and from offshore drilling rigs and production platforms.

These new PSVs can also carry containers on deck for other types of cargo and have fire-fighting capabilities and oil pollution recovery equipment. They have exceptional seakeeping capabilities and are ideal for the rough seas found at many offshore production sites, and have newly designed anti-roll tanks and an optimised superstructure for maximum crew comfort.

Staale Remoy, CEO of the PSVs' operator Remoy Management AS, said: "The advantage of these vessels is their streamlined hulls and axe-bow, which allow them to move silently through the water and use less fuel because of their sleek design. They also follow Damen's green E3 principles: environmentally friendly, efficient in operation and economically viable.
"The other five vessels are being delivered at the rate of one a month during the rest of 2013, with four leaving for Brazil in 2014."

Leif Gunnar Sandvik, Marine Client Manager for Lloyd's Register EMEA in Bergen, Norway, added: "We are very pleased that Remoy Management AS, and World Wide Supply AS, have chosen LR to class their new vessels and are looking forward to a good and long-term co-operation with them."