The Brightest Hazardous Area Warning Indicator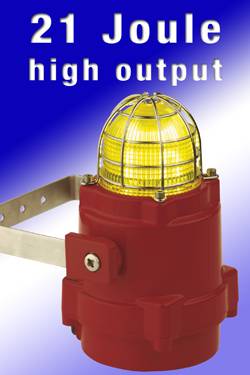 The latest addition to the BEx beacon range from E2S is an ATEX, IECEx, InMetro and GOST R approved high output 21 Joule Xenon beacon.
Available with a choice of seven lens colours (Red, Amber, Yellow, Purple, Blue, Green and Clear), it is designed to give a high output for areas where a brighter alarm signal is required. Certified for use in Zones 1, 21, 2 and 22, it is suitable for the great majority of hazardous areas and its powerful beacon is especially suitable for use in outdoor areas in bright sunlight. Utilising a twin Xenon tube, it can be configured to produce a single full power flash, a double strike flash or an alternate flash; a second stage alarm is available if required.

Manufactured from corrosion resistant, copper free LM6 alloy, which is phosphated and powder coated, it is sealed to IP66/67, and therefore suitable for both onshore and offshore applications; the twin xenon tubes are mechanically secured to provide protection against shock and vibration. 24 and 48VDC and 115 and 230VAC voltage versions are available.