Brightoil Reports Steady Growth in Interim Results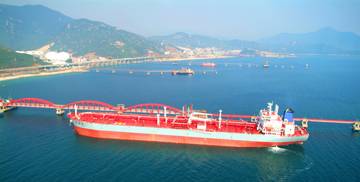 Brightoil Petroleum (Holdings) Limited announced its interim results for the six months ended December 31, 2014, reporting steady growth over the period.
During the period, profit attributable to the owners of the group increased 3% year-on-year to HK$561 million. Basic earnings per share amounted to 6.41 HK cents, up 3% from a year ago. Total revenue climbed 11% from HK$40.3 billion in 1HFY2014 toHK$44.9 billion for the period as the twin-engines business model (upstream and mid-downstream businesses) enabled the group to secure steady growth amid volatile oil prices.
The group's marine transportation segment recorded its best ever results during the period as compared to a loss in the same period of last fiscal year. Meanwhile, the international trading and bunkering segment continued to develop at a steady pace even at this period of severe oil price volatility, primarily due to the company's diligent risk management., Brightoil said As for the upstream business, aggregate production at the Caofeidian Project in Bohai Bay between July and December outstripped the original target for the project by 1.3 million barrels of oil equivalent (boe). Furthermore, the group submitted a formal bid in late 2014 to acquire from Newfield Global Inc. its stakes in oil field blocks in Bohai Bay and the Pearl River with the aim of further boosting its oil and gas reserves and production.
Dr. SIT Kwong Lam, Chairman of Brightoil Petroleum, said, "International oil prices plunged dramatically in the second half of 2014, as evidenced by the 50% drop in the price of crude within a span of six months. This posed severe challenges to operators in the oil and gas sectors, and the group responded proactively to the situation. While exercising stringent control of operating costs in upstream operations, we capitalized on these valuable opportunities and are looking for superior oil and gas assets for acquisition in a prudent manner in order to forge Brightoil Petroleum into a resources-focused enterprise with an emphasis on upstream business complemented by mid-to-downstream operations. Our 'twin-engines' model ensured our steady business growth. The Contango situation resulting from the downward spiral of oil prices led to increased demand for tankers as a means of floating storage which, combined with winter seasonal demand, helped us achieve our best ever results in the marine transportation business."
Upstream Business
According to Brightoil , the Caofeidian Project performed satisfactorily as aggregate production for the period between July and December outstripped the original target for the project by 1.3 million boe. Meanwhile, a workover of the Dina 11 well at the Dina 1 Gas Field has been carried out, and the Dina 11 well is expected to commence production in June 2015. Drilling and surface works at a new platform comprising four wells of the Tuzi Gas Field are underway, and they are scheduled to come on stream in November 2015. Once drilling and surface works are completed, these new gas wells will contribute an additional 1.3 million cubic meters of gross daily production. During the period, the group continued to deepen the cooperation with China National Petroleum Corporation (CNPC) and was actively engaged in negotiations on the selling prices of gas produced at the Dina 1 and Tuzi Gas Fields. Brightoil believes possibilities still exist for price increase this year, which will bring significant profit contributions to the group.
International Trading and Bunkering (ITB)
Brightoil's sales volume was further enhanced as the group's crude oil team retained partnerships with oil majors both in China and overseas and established stable supply channels with mature oil production areas that include South America and West Africa. For the bunkering operation, the group said it has emerged unscathed from an incident involving the bankruptcy of Danish company OW Bunker due to its sound risk management system and actually benefited from the situation due to the market credit premium at the time. In addition, the group's bunker tanker "Brightoil 688" received certification for its Mass Flow Meter (MFM) system from the Maritime and Port Authority of Singapore (MPA) and was received by international shipowners. The MFM systems of another two vessels of the group are expected to receive certification from the MPA in the first quarter of 2015, which will further strengthen the group's bunkering operation.
Marine Transportation (MT)
Despite slower growth in demand, China's oil demand nevertheless hit a record 310 million metric tons for 2014. It appears that a significant amount of stock building and arbitrage volumes added to the demand for tankers. Brightoil said its strategy of focusing on Chinese imports and Chinese state-owned oil companies continued to pay dividends. EBITDA of the marine transportation business improved by HK$80 million when compared to the previous six months, the same period of the previous fiscal year. Benefiting from the fuel economy characteristics of its VLCC fleet, lower oil prices and improved freight rates in winter, the marine transportation segment recorded net profit of HK$67 million in the second quarter of this fiscal year, marking its best ever quarterly performance.
Oil Storage and Terminal Facilities
During the period, about 60% of the civil works and the main body of storage tanks of the Zhoushan Waidiao Island Project and about 90% of the hydraulic works of the terminal were completed. The Phase I storage and terminal facilities are slated to enter operation in the second half of 2015 while the Phase II facilities will come on stream in 2016. Meanwhile, all land-leveling works for the Dalian Changxing Island Project were completed and formalities for government approval of the project were made. The Phase I storage facilities will commence operation next year. Both of these two projects are located in China's main deepwater ports and bulk commodity trade centers. Upon commencement of full operation, Brightoil Petroleum said it will become one of the world's top five oil storage service providers and will receive stable rental income.
Dr. SIT Kwong Lam, Chairman of Brightoil Petroleum, concluded, "Not only did the collapse in global oil prices send shock waves through oil-related industries but it has also created unprecedented opportunities for major oil consumers like China. In such complicated market environment, the group will continue to exercise stringent risk management and to enhance its operating efficiency. At the same time, we will actively look for quality upstream assets with a primary focus on natural gas resources to reinforce our upstream operations. China's demand for oil storage facilities is poised to further accelerate underpinned by continue growth in the domestic economy and rising needs for national strategic oil reserves. When our projects in Zhoushan and Dalian commence operation, they will generate stable rental income for us and create synergies and economies of scale with our existing bunkering and trading businesses to drive the group's steady development."