Britain's Latest Warship Sails to Home Port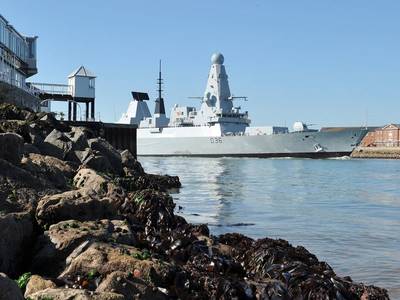 The Royal Navy's newest Type 45 destroyer, 'HMS Defender', sails to her new home at Naval Base Portsmouth.
The ship's arrival at her new base brings Defender a step closer to her first deployment. She will now undergo sea trials before being declared ready for operations in 2013.
Armed with the world-leading Sea Viper missile defence system, the 7,500-tonne vessel is able to defend against multiple attacks from even the most sophisticated anti-ship missiles, approaching from any direction and at supersonic speeds.
The Minister for Defence Equipment, Support and Technology, Peter Luff, said: "This latest addition to our fleet of state-of-the-art destroyers marks the remarkable progress being made on the Type 45 programme.
HMS Defender is the fifth of six Type 45 warships built for the Royal Navy, and was launched at the BAE Systems' Govan yard in Glasgow in October 2009.
The Type 45s will provide the backbone of the UK's naval air defences for the next 30 years and beyond. The destroyers will be capable of carrying out a wide range of operations, including anti-piracy and anti-smuggling activities, disaster relief work and surveillance operations as well as high intensity war fighting.
The final vessel in the Daring Class, HMS Duncan, is due to undertake her first set of sea trials later this year, and is due to be accepted into service in 2014.