IYC Brokers Sign Motor Yacht 'Kakawi' as Central Listing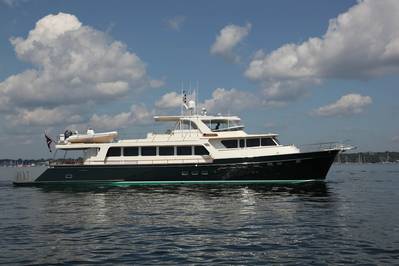 IYC announce that Mark Elliott & Philip Bell have signed the 97' (29.57m) Marlow motoryacht KAKAWI as a new central listing. Details as follows:
KAKAWI, 97' (29.57m) Marlow 2011 Motoryacht o Asking Price: $5,850,000
Brokers: Mark Elliott, 305.764.1167, Mark@iyc.com Philip Bell, 954.873.0170, pbell@iyc.com
Location: Newport, Rhode Island, USA
KAKAWI is one of the finest yachts on the market today. Here is the chance to own a beautiful, legendary Marlow that has less than 200 hours, can reach speeds to 30 knots and is available without the characteristic three-year lead time for a new build Marlow.
Featuring matchless elegance both in exterior and interior spaces with all entertaining, epicurean and relaxation needs met, KAKAWI is built with three watertight compartments and has been outfitted with the finest equipment and ship's systems available.
The brokers note that with all warranty issues addressed, KAKAWI can be purchased below replacement cost and is ready for extensive cruising."
International Yacht Collection (IYC) incorporates all disciplines of the large yacht business through yacht management and brokerage, new large yacht construction services, yachts vacation, charter marketing, yacht management and crew placement.

In order for IYC's extensive and highly experienced staff to provide consistently superlative customer support, IYC offices are located in strategic ports of call: Fort Lauderdale and Palm Beach, Florida, Newport, Rhode Island, Nassau, Bahamas, St. Maarten and Monaco.

IYC is a member of American Yacht Charter Association (AYCA), Charter Yacht Brokers Association (CYBA), Florida Yacht Brokers Association (FYBA) and MYBA.