Brookfield Acquires Australian Port and Railroad Operator for $8.6-billion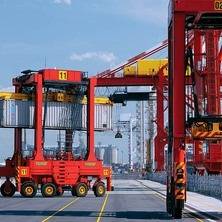 A group lead by Brookfield Infrastructure Partners, a global asset manager, had reached an agreement to buy the Australian port and railroad operator Asciano for about $8.8 billion in cash and stock, and that it was shopping for ports farther afield in a push to expand, reports NY Times.
Brookfield says the acquisition of Patrick terminal will lay the foundation for a global container terminal presence, building on its facilities at Teesport, U.K., and the Port of Los Angeles. The company also hopes to leverage Patrick's experience with automating port operations.
Patrick and Asciano have a proven track record as operator and owners of bulk and general ports and supporting infrastructure.
"We would like to leverage our container platforms in the U.S., Europe and South America," said Sam Pollock, Brookfield's chief executive, in an interview after announcing the Asciano deal in Sydney. Asked if that meant Brookfield, which has $207 billion in assets, was seeking port acquisitions, Pollock said "yes."
"Combining Asciano's
Australian container
terminals with our existing assets in North America and
Europe provides
the foundation for a global container platform. In addition, Asciano's leading above-rail operations, together with our Australian and Brazilian logistics businesses, create a powerful, international rail logistics business," Sam added.
Brookfield wants to acquire more ports amid forecasts that seaborne trade will increase to as much as 24 billion tons in 2030 from about nine billion tons in 2014, according to a study by Lloyd's Register, QinetiQ and Strathclyde University in Scotland.
The combination of Brookfield Infrastructure and Asciano will create a leading global rail, port and logistics business.
Brookfield will gain overnight a major container terminal presence through Patrick Corporation, whose container terminals in Sydney, Melbourne, Brisbane, and Perth have a combined annual capacity of 4.9 million 20-foot-equivalent units. Patrick also has stevedoring operations in 40 locations in Australia and
New Zealand
.