Brunswick Unveils Aluminum High-Speed Patrol Boat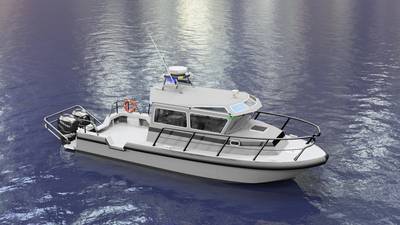 New Aluminum High-Speed Patrol Boat from Brunswick Commercial and Government Products.

Brunswick Commercial and Government Products (BCGP) has been hard at work on the design of the new Sentry line of high-speed aluminum patrol craft. The inaugural model, the 32-foot Sentry, will make its debut at the International Workboat Show in New Orleans, Nov. 30-Dec. 2. Demos on the 32-foot Sentry will be available to agencies beginning in January 2012. Five Sentry models comprise BCGP's aluminum patrol boat line serving navies, coast guards and law enforcement agencies around the world. The Sentry product line ranges in size from 28 to 45 feet in length, and can be outfitted with a number of propulsion options.

The main objectives for the design team were threefold: build the wheelhouse to meet ABS standards, reduce the number of welds for maximum strength, and keep the boat lightweight. Welding greatly reduces the inherent strength of the aluminum and its heat induction can create distortion. The use of increased bends in the cabin's shape reduces the amount of framing required for strength, as a bend can increase strength by as much as two times. The reduction of framing and welds lessens the cabin weight and improves stability.

The cabin features large overhead windows and standing headroom with 7 foot, 3 inches of clearance. The lower cuddy cabin has two berths and room for an optional small galley or full head, and boasts 6 feet, 2 inches of headroom. Other notable design features include a transparent aft sliding cabin door and forecabin door. The aft door permits complete views of the transom corners from the helm location for visibility when backing down. The boat features plenty of storage, with aft cabin lockers that can house a small refrigerator and microwave on the port side, and gun storage and a clothes locker to the starboard side. The 32-foot Sentry model is equipped with shock mitigating seating to greatly enhance crew comfort on long or rough details.

The 32-foot Sentry shown at the Workboat show will be powered by twin Mercury 300 HP outboard engines. Sentry models 32 feet and larger can be outfitted with triple outboards or diesel waterjet engines. The Sentry line is part of a strategic partnership between BCGP and MetalCraft Marine, Inc.