Dean James Wins Best Poster Prize at Ocean Business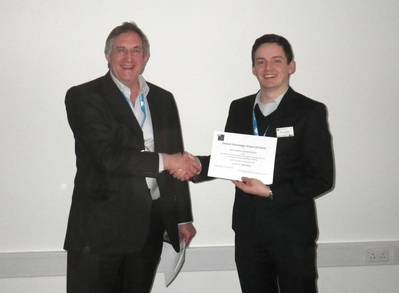 Chelsea's Technical Director, Dr. John Attridge, presented the prize for best poster to Dean James (University of Oxford) at the Microfluidics and Microsensor Sensor Technology for Oceanographic and Environmental Science Applications Workshop held during Ocean Business at NOC Southampton.


Dean's poster was entitled "Sensitive analysis of trace chemical species in seawater via cavity-enhanced spectroscopy."


The Challenger Society hosted this fascinated one-day workshop which focused on developments in microfluidics and microsensor technology for oceanographic and environmental science applications.


The event hosted talks by international experts in the field of microsensor development such as Dermot Diamond (Dublin City University), Veronique Garcon (LEGOS, Toulouse), Agathe Laes-Huon (Ifremer, Brest) and Paul Maguire (University of Ulster). It provided an opportunity for academic researchers and representatives from industry to network and discuss the latest emerging technologies for environmental monitoring.