OMM Reports Wind Farm Guard Vessel Business Boom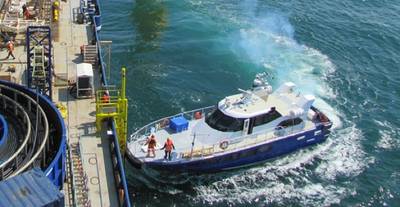 UK-based Offshore Marine Management (OMM) say that its Guard Vessels business has shown a strong performance in 2013 with 4,728 vessel management days recorded and a number of key industry relationships forged.

The company informs it has been working closely with its vessel partner has provided guard vessels for a number of high profile wind farm interconnectors, including Borwin 2, Helwin 1, Dolwin 1 and Sylwin 1. This has allowed Offshore Marine Management (OMM) to build strong relationships with TenneT, Prysmian, ABB and EMAS including other market leaders.
Eckhard Bruckschen, Chief Operating Officer, OMM said: "We're delighted at how this part of the business has progressed in 2013 and we are now a key player in this aspect of vessel management for our clients in the Offshore Market. Our success is down to a thorough understanding of the industry and our clients project requirements along with strong relationships with vessel owners and vessel partners."

He continued: "We expect to see further growth in management of vessels and client requirements to outsource such a service in 2014, with more operating companies coming into the industry there will be more boats to manage allowing OMM to take up this responsibility and free up time for their clients. Our aim is to become the market leader in sourcing and vessel management."

www.offshoremm.com