Major Shipping Line Orders MAN B&W-Powered, Multi-Role Vessels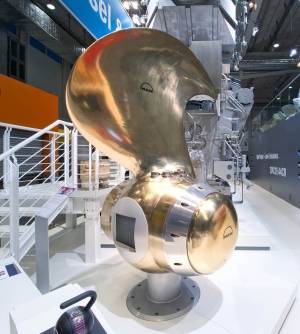 Complete MAN Diesel & Turbo propulsion packages to power unique civilian/military project

DFDS, the Danish shipping company and one of the world's largest ferry operators, recently signed a contract for the construction of two identical RoRo vessels, each to be powered by two MAN B&W 8S40ME-B9 engines with many extra MAN Diesel & Turbo specifications. Scheduled for delivery in 2012, the ships' design is tailored towards operation on DFDS' commercial network, but will also meet parameters laid down by the Danish-German ARK military project for the deployment of military material.

Each RoRo will be powered by two MAN B&W 8S40ME-B9 type main engines. Thevessels will employ a twin-screw propeller system using the new, highly-efficientAlpha Mk. 5 designs – type VBS1350FF-ODS – officially launched at the SMM international trade fair in Hamburg last autumn. The FF-type propeller features a fullfeathering pitch position and employs the Alphatronic 2000 as propulsion control system. The propulsion package also uses shaft-line tunnel gears for PTO-drive.

The propulsion plant is designed for operation in various modes, such as cruising,manoeuvring and economy for military convoy sailing, with an electrical system thatcan handle fixed and floating frequencies.

DFDS has also decided in favour of MAN Diesel & Turbo in terms of the order's auxiliary engines, and has chosen 3 × MAN Holeby 16/24 gensets for each vessel ahead of a competitive field of bidders.

Interesting reference

Ole Grøne, Senior Vice President Low-Speed Promotion and Sales, MAN Diesel & Turbo, said: "This order represents a very interesting reference for our company. Not just because of the engines and the overall specifications, but also the unusual, multi-role nature of the vessels. Such vessels require multiple operational and propulsion modes built into their design. DFDS has chosen our ME-B engines as they are more flexible in relation to the significant operational variations that ARK ships experience.

Grøne continued: "DFDS can safely be called front-runners when it comes to efficient ship and propulsion-package designs. In fact, between 2003 – 2006 we delivered six 60-bore MC engines for its successful 'Flower' series of RoRo vessels where DFDS's choice of low-speed engine broke with previous norms."

Future deployment

The two identical newbuildings will be constructed at the P+S Werften shipyard in northern Germany, and will have a lane-capacity of 3,000 metres and room for 342 TEU on the weather deck – a special requirement of the ARK project.

In due course, they are expected to enter service on one of DFDS's North Sea routes with an ordinary service speed of 18.6-18.7 knots and a contractual ship speed of 20.5 knots. When deployed for military service and convoy sailing, speed will be reduced to about 12 knots. This is where operation on one engine/propeller is desired with the other engine stopped and its propeller pitch in full feathering position.

In 2010, Germany extended its partnership in the Danish-led ARK project up to 2021. This provided the necessary incentive to DFDS – the current, commercial party in the project – to order the specially modified tonnage included in the extended agreement.

With the new RoRo order, the ARK project will have 5 ships at its disposal by mid-2012 that fulfil a list of special requirements. According to the terms of the ARK project, one of the ships will be chartered full-time by the Danish-German military while the others will operate normally on commercial schedules but, upon request, can revert to military use within 15-60 days.
Source: MAN Diesel & Turbo