Rotterdam to Construct Tide Pools Along Calandkanaal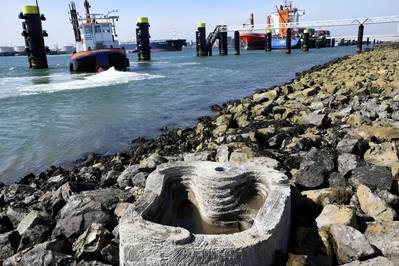 The Port of Rotterdam Authority will be constructing 16 tide pools along the north side of Calandkanaal. These pools will be realised by embedding raw concrete basins in the banks of the waterway.
The design of these tide pools, manufactured by ECOncrete, ensures that water is retained for a longer time in the pools during low tide. This turns the temporary pools into miniature ecosystems, which often occur naturally in rocky coastal zones but are largely absent in modern ports.
"These so-called ecomodules fit in with the Port Authority's ambition to increase the biodiversity and habitat options of organisms in the port area, which can help to further improve the local fish stocks and water quality," says Port Authority COO
Ronald Paul
.
The Port Authority has already taken a variety of measures in this context. One example is the 'Green Gateway project', organised in partnership with a number of parties, including World Wide Fund for Nature.
In this project, material that is freed up during the realisation of other projects is used to construct parallel dams along a 5-km stretch on the southern end of Nieuwe Waterweg. Last autumn, the
Port Authority placed
four bio-huts in Calandkanaal: new, artificial habitats for juvenile fish. In addition, a variety of structure-enhancing measures are being realised around the columns of the Calandkanaal bridges, including 'hulas' and 'tide cups'.
The tide pools were developed by ECOncrete tech ltd, a research-based company that designs concrete products that can be used to stimulate biodiversity and reduce the ecological footprint of coastal and maritime projects.
Calandkanaal has been extensively redeveloped over the past few months, with projects including the installation of buoy and bollard configurations, a new LNG bunkering berth and seven new berths for inland vessels.
An initiative that deserves special mention in this context is the construction of the 'inland shipping berth of the future'. The new initiatives to improve local fish stocks and water quality align very well with this programme.