Hurricane Newton Storms Up Mexico's Baja California Peninsula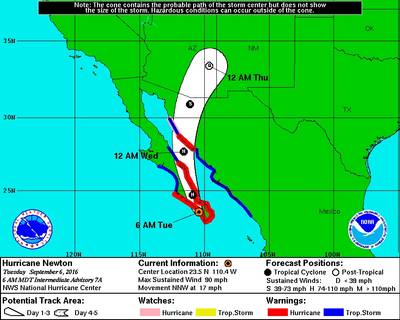 Hurricane Newton barreled up Mexico's Baja California peninsula tourist haven on Tuesday, dumping heavy rains as winds whipped, but there were no immediate reports of major damage.
The category 1 hurricane hit the resort of Cabo San Lucas early on Tuesday morning, and then headed north, with the eye of the storm over the south of the peninsula. It is currently low season, and hotels popular with American tourists were not full, staff said.
The storm lay around 50 miles (80 km) northwest of Cabo San Lucas, with maximum sustained winds blew at 90 mph (144 km), the U.S. National Hurricane Center said.
Mexican emergency services warned on Twitter of waves of 4 meters (13 ft) to 5 meters along the coast, and advised extreme precaution.
Newton was expected to move north-northwest on Tuesday, before turning north and losing strength. However the storm was expected to remain a hurricane when it moves from the peninsula to the northwestern coast of mainland Mexico early on Wednesday, the NHC said.
Mudslides triggered by intense rainfall in eastern Mexico killed around 40 people last month as saturated hillsides collapsed onto homes in the wake of Tropical Storm Earl.
(By Jean Luis Arce, Writing by Simon Gardner)