Bridge Systems Ordered for Canadian Navy Newbuids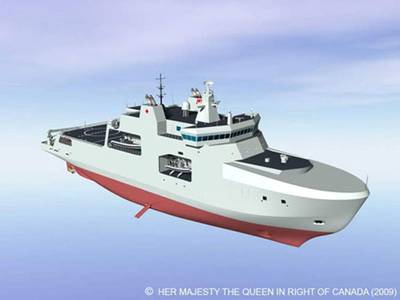 OSI Maritime Systems signs contract for the implementation phase of Integrated Navigation and Bridge Systems for the Royal Canadian Navy's Arctic Offshore Patrol Ship Program
OSI Maritime Systems Ltd. (OSI) has signed a contract with Lockheed Martin Canada to build, deliver and support the installation of the Integrated Navigation and Bridge Systems (INBS) for the Royal Canadian Navy's (RCN) new class of Arctic Offshore Patrol Ships (AOPS) to be built at the Halifax Shipyard. This implementation phase contract is being awarded subsequent to the successful conclusion of a 21-month design phase contract completed in early 2015.
Lockheed Martin Canada is a Tier 1 Supplier to Irving Shipbuilding for the AOPS project under the
Canadian government
's National Shipbuilding Procurement Strategy (NSPS). Under the terms of OSI's contract with Lockheed Martin Canada, OSI will deliver six systems, with the first system delivery in late 2016 and the final delivery in late 2018.
"The AOPS program is an exciting opportunity for our company," said Ken Kirkpatrick, President and Chief Executive Officer, OSI Maritime Systems. "All of the work for this important project will be completed in Canada at OSI's Burnaby facilities and will directly create a number of new, highly skilled engineering positions. This project will also be leveraged to support our pursuit of numerous other international projects -- ultimately creating many more jobs for Canadians."
AOPS is a Government of
Canada procurement
project for the RCN. The project will equip the Canadian Forces with six naval ice-capable offshore patrol ships able to assert and enforce sovereignty in Canada's waters where and when necessary, including the Arctic. The first Arctic Offshore Patrol Ship, being built by Irving Shipbuilding, is scheduled to be delivered in 2018.