Salvage Firm to 'Hot Tap' Canadian Wreck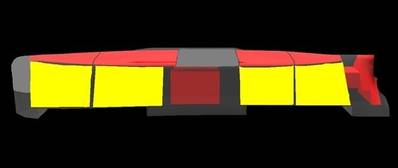 The Canadian Coast Guard has engaged salvage experts to remove bunker oil by 'hot tapping' from the sunken wreck of deteriorating WWll US Army Trnasport ' Brigadier General M.G. Zalinski' 100 km south of Prince Rupert BC.
The vessel ran aground during a storm and sank in 1946 in the Grenville Channel, about 100 km south of Prince Rupert, British Columbia. It is lodged upside down in 34 metres of water about 20 metres from shore.

The Canadian Coast Guard has been monitoring the vessel since its discovery in 2003, and has taken measures to conduct emergency repairs to prevent and stop any leaking oil. However, as the state of the vessel deteriorates, the Coast Guard has determined that to prevent any harm to the environment, a significant operation should be undertaken to remove the oil from the vessel.

Three independent marine salvage experts have recommended a process called "hot tapping" to remove oil from the vessel as the most cost effective and having the lowest operational risk.

Hot tapping is a well-known and frequently used method of removing oil from the tanks of stricken vessels. Holes are carefully drilled into the side of the vessel to access fuel-tanks and then hot steam is pumped into the tanks. The steam increases the temperature of the oil and enables it to flow more easily. The oil is then pumped to the surface for safe disposal.

The procedure can be done with holes of very small sizes up to very large diameters. Hot tapping is used in both marine and land-based scenarios.
The Canadian Coast Guard will contract a marine salvage company to undertake the hot tapping operation. The Coast Guard estimates that the Zalinski operation will take up to 90 days; this will also depend on selected contractors and weather.
It is expected that the operation will begin in September 2013 and will conclude in December 2013.
The red sections in the image above represent the fuel tanks of the Zalinski; the possible locations for hot tapping of the vessel. The yellow sections represent the cargo holds.