Canadian Coast Guard's Massive Fleet Renewal Underway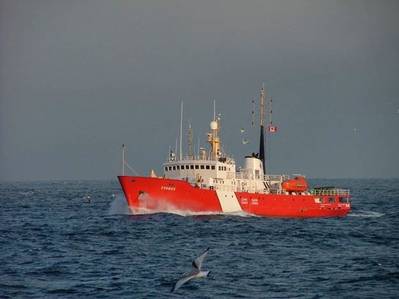 As part of the Government's investment in its Coast Guard fleet, Federal Ministers Gail Shea and Rob Moore announce the award of a $1.2 million contract to St. John's Dockyard Limited for Vessel Life Extension (VLE) and refit work to Canadian Coast Guard vessel 'CCGS Cygnus', .
In the unprecedented investment to the Canadian Coast Guard's fleet renewal program allocated in Economic Action Plan 2012, the Harper Government will extend the lives of sixteen Coast Guard vessels and complete mid-life modernizations on an additional two existing hovercraft over the next 10 years. This investment will also enable the Coast Guard to procure 18-21 new vessels, up to five new Medium Endurance Multi-Tasked Vessels and up to five Offshore Patrol Vessels for its fleet.

The ministers add that this contract for the CCGS Cygnus is awarded as part of the $360 million investment to extend the life of the Coast Guard fleet announced in February 2013 and it will also be funded in part from the Coast Guard's regular refit budget.

Home ported in St. John's, Newfoundland and Labrador, the CCGS Cygnus is an Offshore Patrol Vessel capable of operating beyond 120 nautical miles including outside the Exclusive Economic Zone. It is used primarily for fisheries enforcement and search and rescue on the Atlantic coast.
VLE work on the CCGS Cygnus will focus on steel renewals throughout the vessel and will include replacement and alignment of the tail shaft, repairs to the main mast and a new anchor. This work is expected to take place from January to March 2014, and the vessel will be back in full service in March 2014.
"Over the last seven years, our Government has made unprecedented investments in the Canadian Coast Guard to enable the men and women of the Coast Guard to continue their important work. As a result of this work, the CCGS Cygnus is expected to remain in service until 2022. This contract will also create jobs and economic benefits in the Newfoundland and Labrador shipbuilding sector," commented Rob Moore, Regional Minister for Newfoundland and Labrador and Minister of State (Atlantic Canada Opportunities Agency)