Carkeek C47 Sailboat in RORC Caribbean 600 With a Chance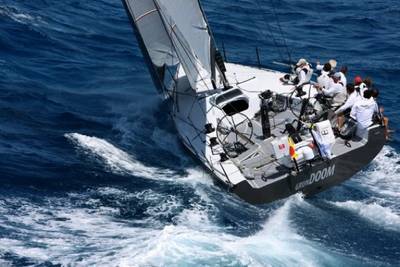 Carkeek Design Partners predict an exciting sailboat racing campaign ahead for their C47 fleet. With the first and second boats launched late last year the potent new C47 race boat has just made its offshore debut at the RORC Caribbean 600, while build on the third boat in the series commences in Dubai at Premier Composite Technology.

The builders aim to deliver boat number three to an experienced German owner who most recently campaigned a Soto 40, on time to compete in some of this season's key European regattas, debuting at the Giraglia in June.

The first C47 will be on charter to another prominent German owner for the season. With Markus Wieser on board, boat one will open their programme at Palma Vela in late April as a prelude to the ORC World Championships and Kiel Week.

Based on the east coast of the USA, Grundoom, boat two, has just completed the RORC Caribbean 600 race with designer Shaun Carkeek on board and Olympic medallist and multiple world champion, Steve Benjamin doing tactics.

Benjamin is widely regarded as a leading expert on light displacement performance race yachts and a founder of the High Performance Rule: "The new Carkeek 47 Grundoom is the latest HPR design to be launched. The RORC Caribbean 600 was a real test for the boat and my first impression was how stable it is and how comfortable it is inside. We had a new team for the boat's first race and we got more out of the boat with every mile sailed, I believe the boat is capable of winning overall."

Carkeek Design Partners and Premier Composite Technologies say they have received considerable global interest in the C47.

As a latest generation race boat designed to deliver speeds quicker than the TP52 benchmark in many conditions, the C47 comes in at a more realistic cost, requires fewer crew and yet is set to win inshore and offshore under the prominent handicap systems IRC, HPR and ORC whilst offering a fast but easily achievable performance profile.