Caribbean Cruises Inks Long Term Support Deal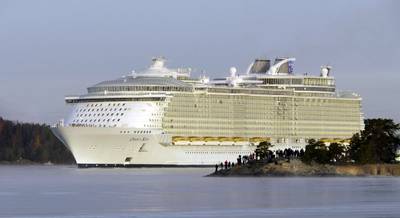 Wärtsilä has signed a ten-year maintenance and technical support agreement with Royal Caribbean Cruises Ltd (RCL), which includes a sub-contract with ABB Turbocharging: the service agreement covers 142 Wärtsilä engines and 170 ABB turbochargers in 36 vessels (32 already in operation and four newbuilds, with an option to add more vessels in the future).

Wärtsilä explains that under the terms of the contract, it will provide a broad range of services for RCL, including condition monitoring of the engines, individualised technical support, the development and design of new components as well as spare parts supply agreement. ABB Turbocharging will work with Wärtsilä to provide a customised service package for the turbochargers on the vessels, including scheduled and unscheduled spare parts and labour at ABB workshop.

"By combining the knowledge from the customer's side with the knowledge and experience from Wärtsilä and ABB, we made this agreement a reality. The contract will enhance the predictability of Royal Caribbean's operational costs, minimise scheduled and unscheduled maintenance costs as well as optimise the planning of maintenance and spare parts deliveries," says Kimmo Kohtamäki, Director of 4-stroke engines at Wärtsilä.

"Our focus has always been to ensure safe, cost-effective and reliable turbocharger operations so that RCL can focus on what is most important of all, namely the safety and comfort of their passengers and their business. We are very pleased to be able to work with Wärtsilä to offer RCL the very best standard in turbocharging," says Axel Kettmann, Senior Vice President and global head of sales, marketing and service at ABB Turbocharging.

Royal Caribbean Cruises Ltd. operates a substantial number of Wärtsilä engines, and has over 40 years of co-operation and partnership with Wärtsilä. Furthermore, Wärtsilä and ABB Turbocharging also have a longstanding collaboration around turbocharging in several key areas, including service agreements, research and development and sales.