Carnival Scoops Up Port, Rail and Retail Operations in Alaska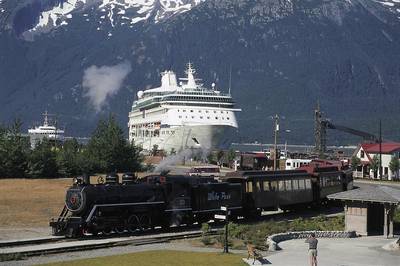 A subsidiary of Carnival Corporation has reached a deal to purchase port, railroad and retail operations that form a gateway to the Klondike Gold Rush region, in a major push into the Alaskan tourism industry.

Carnival, the world's largest cruise and leisure travel company, announced Thursday it has entered a purchase and sale agreement through its subsidiary Holland America Princess Alaska Tours to acquire TWC Enterprises Limited's White Pass & Yukon Route (WP&YR) division, which includes port, railroad and retail operations in Skagway, Alaska. The deal is expected to close on July 31.

Separately, Holland America Princess Alaska Tours, which oversees the management of a group of hotels and lodges, motor coaches and private rail cars in Alaska and the Canadian Yukon, executed a memorandum of understanding (MOU) with Alaska-based Survey Point Holdings, Inc. and one of its affiliated companies to create a joint venture that makes Survey Point the managing partner of the operations acquired from TWC Enterprises.

Under the agreement, Survey Point will manage WP&YR's day-to-day terminal operations and customer relations. Survey Point and its subsidiaries, Cruise Line Agencies of Alaska, Amak Towing and Southeast Stevedoring, have been actively engaged in Skagway operations for more than 40 years and will continue to enhance Skagway as a cruise and shore excursion destination, and foster relationships with the community and cruise lines that call there.

Between its Holland America Line and Princess Cruises brands, Carnival has been active in the Alaskan cruise market for nearly 70 years. The company offers Alaskan cruises through its Holland America, Princess, Seabourn, Carnival and, most recently, Cunard brands.

"As the gateway to the legendary Klondike Gold Rush region, Skagway is beloved by our guests and crew for its warm hospitality and distinctively Alaskan array of sightseeing and recreational activities," said Stein Kruse, group CEO of Carnival Corporation & plc's Holland America Group and Carnival UK. "We are delighted that the Skagway port will continue to be locally owned and independently operated by an Alaskan company."

The MOU outlines that Survey Point, P3 Group and Rail Management Services – an affiliate of Survey Point – will own a majority stake in the company, and Carnival Corporation & plc will retain a minority position in the enterprise.

As part of the new MOU and joint venture, the partners also plan to make investments in the business, including support for expansion of docking facilities to accommodate the newest generation of cruise ships. A spokesperson for Carnival said it is too early to discuss specifics of the port expansion but additional details would be available in the future.

"Along with Survey Point, we have a long and valued history in Alaska, and remain very committed to the continued development and success of the entire region as one our most popular destinations," Kruse said.