South Carolina Ports Project Funding Agreed by US Senate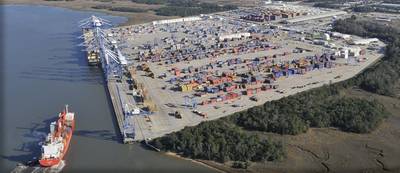 The U.S. Senate has overwhelmingly passed the Omnibus appropriations bill, allowing key SC Ports Authority projects to proceed, says the Ports Authority.

The bill was passed by the U.S. House of Representatives with support of five members of the South Carolina delegation, and it now goes to the President's desk for signature.

The bill includes funding for the U.S. Army Corps of Engineers to continue its Feasibility Study of the Post-45 Harbor Deepening project, which expects to receive its Chief's Report in September 2015, as well as construction funds for Charleston that could facilitate the deepening project moving forward without delay upon receipt of the Chief's Report.

Additionally, it contains language pertaining to emerging harbors that could provide opportunities for the Port of Georgetown to compete for maintenance funding to restore its harbor depth.

"As a member of the U.S. Senate Appropriations Committee, Senator Lindsey Graham ensured the omnibus appropriations bill included language to benefit our port system," commented Bill Stern, SCPA Board Chairman. "Senator Graham continues to demonstrate his support for SC Ports and a clear vision for the future competitiveness of South Carolina. There is no question that his leadership has enabled the positive progress of our harbor deepening efforts."

About the South Carolina Ports Authority
The South Carolina Ports Authority, established by the state's General Assembly in 1942, owns and operates public seaport facilities in Charleston, Georgetown and Greer.