Port of Red Dog: Bulk Carriers' Call of the Wild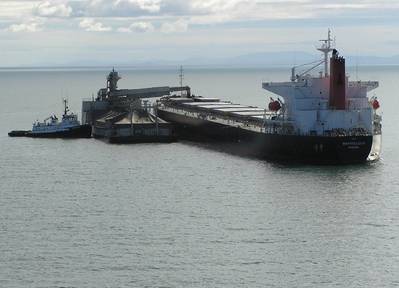 The UK P&I Club issue information for members whose vessels call at the remote Alaskan port on the Arctic Circle.
Red Dog is a port established specifically to support the associated Lead and Zinc mine. It is a very remote location of Alaska and there are no services, including no provisions, repairs, freshwater or bunkers, available. Red Dog is situated in Lat. 67 34'42" North, Long. 164 03'30" West; Northeast of The Bering Strait near the small town of Kivalina, Alaska.

As the ocean vessel loads outside the three statute mile limit, the vessel is not deemed by Customs to have entered into the United States. There is, therefore, no requirement to Enter In or Clear Out the vessel with Customs. However the USCG and CBP consider a vessel within the twelve mile limit to have entered U.S. territorial waters and that they have the right to board and do require filing of the 96 hr ENOA. 


Each summer, the ice conditions determine when the port will open and this could be any time between early June and early July. All enquiries regarding the Port should be made to North Pacific Maritime.

Vessels are anchored about 3 miles off shore and the ore concentrates are brought out to the ship by self unloading barges. Navigation and approach to the Red Dog anchorage are covered by NOAA chart No. 16005. For additional information regarding navigation to the Red Dog Mine Port site, please refer to U.S. Coastal Pilot, volume 9. 

This is a compulsory pilotage area and the pilot station is located approximately 12 miles from the loading anchorage.
Nevertheless, vessels must be prepared to have inspections by Coast Guard officials who may board on a 
random basis to conduct Port State Control examinations. Adherence to S.O.L.A.S. Regulations, nautical publications and requirements imposed at usual U.S. ports is of paramount importance. The emphasis will probably apply essentially to vessels that have not had an USCG Port State Control inspection for six months or longer.

For essential information click here.
Source: UK P&I Club