IMC Certify Design Catamaran 34' Yacht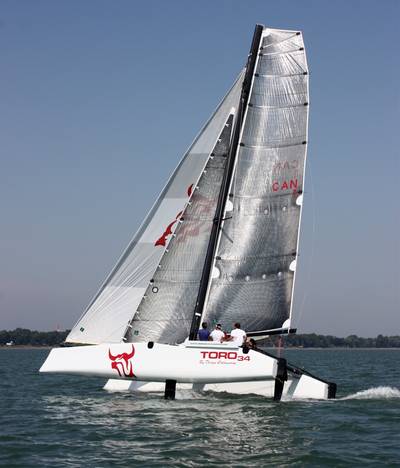 The International Marine Certification Institute (IMCI) announce certification of the yacht 'Toro 34' by Design Catamaran, togehter with much of its sailing equipment.
The Toro 34 is a sport cat that offers state of the art design and manufacturing process. With its four berths, it probably will be the ideal multihull to mix performance and versatility. The yard says: "The Toro 34 is worldwide delivered in a 40' container and easy to trailer on its custom design retractable trailer." The hulls are realized by infusion process, providing generally constant quality and a superior finish.
Materials:
Hulls: Glass/Epoxy/Corecell, Carbon reinforced
Beams: Carbon, 10" X 10" section
Wing Mast, Boom, Spi Pole, Tiller, Rudder System, Rudders and Boards: 100% Carbon
IMC adds that all technical features and safety requirements of the TORO 34 are in compliance with the RCD.
IMCI – International Marine Certification Institute
IMCI with headquarters in Brussels is a conformity assessment body notified by the EU to perform CE- certifications referring the recreational Craft Directive 94/25/EC as emended by 2003/44/EC. It was founded in 1993 and is now taking care for more than 2400 clients all over the world. The portfolio consists beside the conformity assessment of recreational boats and components of the certification of companies, retailers and persons as well.