Curvelle Yachts Prepare for Luxury Power Catamaran US Launch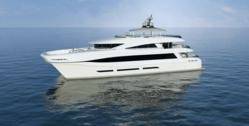 Curvelle Yachts to launch a 110' luxury powercat in March 2013, & appoint Kevin Ralph as North American brand representative.

Luuk V. van Zanten, founder of Curvelle Yachts announces the appointment of veteran yacht consultant Kevin Ralph as the North American representative for the Curvelle range of luxury power catamarans. The first power catamaran is the 110' Curvelle Quaranta.

Featuring the volume of a typical 130' tri-deck M.Y. in "just" 110', fully utilizing her nearly 30' beam, Quaranta has many unique features, including a nearly 20' stern platform, (that houses a 10 person catamaran tender}, which when lowered into the sea, also acts as a diving platform or "beach club", complete with bubblers, sound system and even two waterfalls dropping down from the main deck.

"The advantages of powercats have been known to commercial operators for years," says Ralph, a proponent of the design for yachts: "Given the stability, economy and volume, combined with the styling of Italian designer Mauro Giamboi, Curvelle have come up with a winning formula."

As well as outright purchase, the company will be introducing its "Syndicate Program", allowing up to seven owners to share the costs of owning this luxurious yacht, which may also be purchased via their "lease program". With a top speed of 24kts, transatlantic capability and sleeping accommodation unsurpassed by any monohull under 150', this yacht is certainly something special.