Austal Hi-speed Catamaran: Navy Charter Extended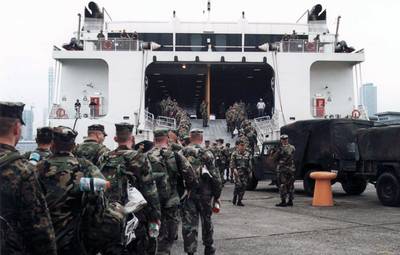 The charter of the Austal high speed vessel 'WestPac Express' has been extended for a further six months by the United States Navy's Military Sealift Command.
The modification to the charter will see the ship continue to support the operations of the United States Marine Corps' Third Marine Expeditionary Force through to February 2014.

The contract extension comes almost exactly 12 years after Austal announced it had signed a world first contract to charter the 101 metre high speed catamaran to the US military for the rapid deployment of Marines and their equipment in the Western Pacific. Since that date the ship has achieved technical availability levels exceeding 99%.

The Austal designed, built and managed catamaran enables up to 900 personnel together with up to 550 tonnes of vehicles and equipment to be moved in a single lift, providing considerable strategic and cost advantages compared to alternative transportation modes. The ship can operate at speeds up to 36 knots (70km / hour). The first six months of this year have been among the busiest ever for the ship and its crew, including carrying over 5,000 tonnes of cargo in May, a new monthly record.

The charter includes the provision of in-service support, ship management services and integrated logistics support.