Caterpillar Marine Launch Product Support Campaign at Show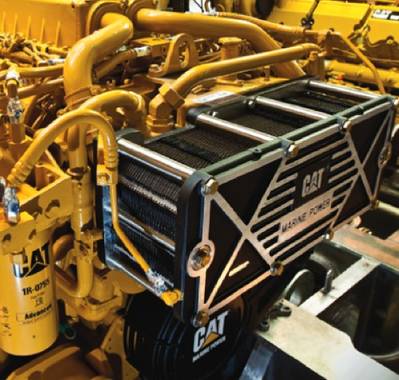 At the 2013 International Workboat Show, Caterpillar is launching an unprecedented product support campaign, unveiling not only a new Cat® 3406 Marine Bundled Repair Solution but also Extended Service Coverage (ESC) for all available Bundled Repair Solutions.
The new Cat 3406 bundled repair solution, which builds off of the Cat 3412 bundled repair solution launched earlier this year, is a customizable, comprehensive solution for customers looking to keep their vessels on the water longer. Customers can choose a major foundational kit and customize it with the related components needed for major engine overhauls.

Customers in the offshore, ferry and tug and salvage industries, including Hornbeck Offshore and Harbour City Ferries, have utilized the bundled repair solution for an expedited overhaul process, saving time and money through the easy quote process from the Cat dealer network and ease of selecting prepackaged parts.

"As the first modular overhaul design kit to be manufactured by Caterpillar, the customer response to the Cat 3412 bundled repair solutions has exceeded our expectations," David Holt Caterpillar Marine Power Systems parts manager said. "Our customers have been pleased with the customization available to each individual overhaul while remaining easy to order from our global Cat dealer network."

In addition to the expanded bundled repair solutions offerings, Caterpillar and Cat Financial are offering complimentary Extended Service Coverage for a limited time upon the purchase of Cat 3406 and 3412Optimal Bundled Repair Solution Overhaul kits. The complimentary coverage is for two years and up to 6,000 hours, with the option of purchasing additional coverage for up to three years and 12,000 hours if desired.

Providing even more flexibility is the new Component Coverage ESC program. For the first time, Cat marine customers will be able to specifically select individual components and utilize ESC to cover specific parts. The ESC program is designed to offer customers superior value and support with assurance against unexpected repair costs on covered component failures due to defects in factory materials or factory workmanship under normal use and service.