Caterpillar Open Middle East Parts Center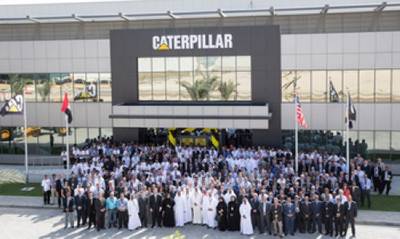 Caterpillar celebrates the grand opening of the Middle East Parts Distribution Center at Dubai, United Arab Emirates.
Caterpillar Inc. employees, executives, dealers and customers, along with leaders of the local community, gathered at the new facility, located in the Jebel Ali Free Zone at Dubai, United Arab Emirates, to celebrate the formal opening of the new Caterpillar Middle East Parts Distribution Center (MEDC).

The ceremony was attended by Caterpillar Group President Stu Levenick, Caterpillar Vice President and President of Caterpillar Logistics Inc. Steve Larson, Caterpillar Vice President Nigel Lewis, CEO of EZW & Jafza H.E. Mrs. Salma Ali Saif Bin Hareb and U.S. Consul General at Dubai, Mr. Rob Waller.

The 500,000 square foot facility employs 130 people and will further strengthen aftermarket parts support in the East Africa and Middle East region. The new facility will also host regional offices for other Caterpillar service groups. The MEDC joins new, recently opened, distribution centers in Spokane, Wash. and Arvin, Calif. as part of the multiyear MCPN program. It is the first facility outside the U.S. to implement standardized SPM processes and the first worldwide to implement new CRM functionality supporting commercial, financial and customs processes.
The Middle East Distribution Center will increase total warehouse capacity for the Europe, Africa and Middle East (EAME) network, adding to existing Distribution Centers in Grimbergen, Johannesburg and Moscow.

"The expansion of the Cat Parts distribution network is another way Caterpillar is delivering on our commitment to providing unmatched parts availability to customers and dealers around the world," said Stu Levenick, Caterpillar group president for Customer and Dealer Support. "The grand opening is a great way to reaffirm our promise to providing the right part, at the right place, at the right time for our customers."