Crowley Celebrates Puerto Rico's Best and Brightest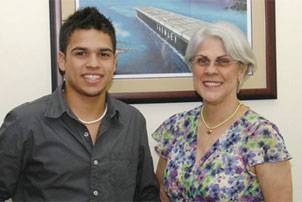 Crowley's commitment to support exemplary students continued this month, as the company awarded the Thomas B. Crowley Sr. Memorial scholarship to University of Puerto Rico student Jan C. Nieves Rolón of Las Piedras, Puerto Rico. He is the 26th student in Puerto Rico to be awarded a Crowley scholarship.

Nieves Rolón, who boasts a perfect 4.0 grade point average in high school, has enrolled as an accounting major at the university's Humacao, Puerto Rico campus. Rita Gonzalez, director of human resources at Crowley's Puerto Rico office, presented Nieves with the scholarship check.

"We are proud of Jan's accomplishments and have faith the future holds a great deal of promise for this outstanding and accomplished young man," Gonzalez said.

Nieves Rolón was awarded the scholarship not only for his academic excellence, but also for his dedication to community service and the wide scope of his extracurricular activities. He believes true satisfaction and personal growth are not defined in the possession of material goods, so he has devoted much of his time to helping the disadvantaged, not only by providing material goods but also sharing the intangible needs of life - companionship, words of faith and providing hope for the future.

The student's list of volunteer activities is long and varied. He has been a counselor at a Baptist church camp for children from special-needs communities, a fundraiser and awareness educator for the Muscular Dystrophy Association, a fundraiser for disadvantaged children's chemotherapy, a participant in the Susan G. Komen Race for the Cure, a housekeeper at a youth center known by JUCUM (Youth With a Mission), a math tutor to high school students, a participant in stage plays the proceeds of which were donated to CESAD (Center that provides meals, and other needs for Homeless) and a participant in various radio programs oriented towards different youth subjects.

Outside of his community service, Nieves Rolón brings a multitude of talents to his well-rounded approach to life. Nieves is an avid soccer player, and he also draws, composes poetry and essays and recently joined the university choir.

"I deeply appreciate Crowley for awarding me this scholarship to allow me to begin my university studies," Rolón said. "I recognize and praise Crowley's efforts to help Puerto Rican youth reach their professional goals. I thank the company for sharing with others what by grace they have received."