Postal Stamp Celebrates Maritime History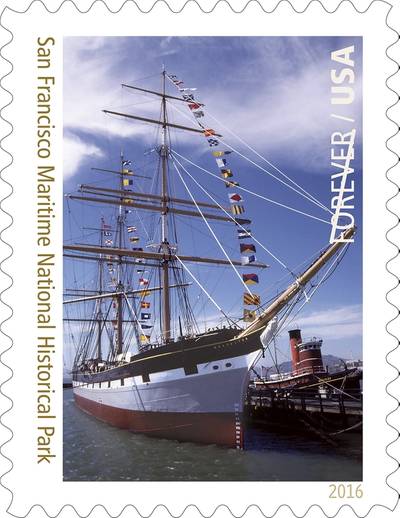 The U.S. Postal Service has previewed a new stamp highlighting California's San Francisco Maritime Historical Park with a photograph of an iconic three-masted sailing ship.

The stamp is the 14th of 16 new Forever Stamps to be revealed over a three-week period to celebrate the National Park Service's 100th anniversary.

The stamp image is a portion of a photograph by Tim Campbell, showing the square-rigger Balclutha. Just visible to the right of the deep waterman/salmon packet sailing vessel is the 1907 steam tugboat Hercules.

Located near the Fisherman's Wharf neighborhood, San Francisco Maritime National Historical Park offers the sights, sounds, smells and stories of Pacific Coast maritime history through five National Historic Landmark vessels berthed there.