ValvTect Celebrates 25 Years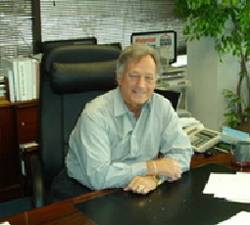 "In 1987, when I told my wife I was going to start a fuel additive company, she said I was nuts," said Jerry Nessenson, founder and president of ValvTect Petroleum.


After 20 years in the oil business, first with Texaco and the building one of the nation's largest fuel distributors, starting a business that sold fuel additives that only a few fuel distributors used, didn't seem like a good idea with four kids in college.

Jerry's relationship with the marine industry started in the mid-1960's. "When I was hired by Texaco they noticed I had served in the Marines, so they figured I knew something about marinas and assigned me to help develop Texaco's StarPort marketing program. In the 70's I bought my first boat and became familiar with boating and the fuel related problems boaters have," Nessenson said.

"I actually started ValvTect in 1984 when the EPA announced they were eliminating leaded gasoline. Because 30% of the gasoline we sold was leaded, I figured there was something to replace it and started to market ValvTect (for valve protection) Lead Substitute to our wholesale gasoline customers and to farms and marinas. Being one of the few companies to use an antigel additive instead of kerosene to winterize diesel fuel, I started to sell our diesel customers an antigel additive. When it became time to leave the fuel distributor, I thought if I could show other fuel distributors how to use fuel additives to improve their business, I could make a business out of it. I guess it worked, as 25 years later ValvTect has become one the nation's largest fuel additive suppliers," Jerry said.

"When I started ValvTect our products fit perfectly in the marine industry. In 2005, we developed the ValvTect Marine Fuel brand, which is now sold at nearly 600 of the nation's marinas. Although it is the smallest part of our business, the Certified ValvTect Marina program is my favorite as it provides great benefits to both marina operators and boaters. I recently have served two terms on the board of the Association of Marina Industries (AMI) and still serve on the legislative committee. It is a great organization and most importantly, I have developed strong friendships with many of the nation's marina operators," Nessenson said.

ValvTect Petroleum has become one of the nation's largest suppliers of fuel additives, supplying more than 400 fuel distributors, who market treated fuels under ValvTect's brands of Diesel Guard, AgriGuard, ThermoGuard and ValvTect Marine Fuels and many of the nation's largest fleets, railroad, some refiners and engine manufacturers.

"Last year our products treated over 1 billion gallons of gasoline and diesel fuel. I really think of our company as a supplier of specialty fuels rather than a fuel additive company. It is a great pleasure to know that our products, brands and technical support programs have been of value to so many companies and has helped to enhance their business," Jerry said.