New Lilaas Lever Takes Center-Stage at SMM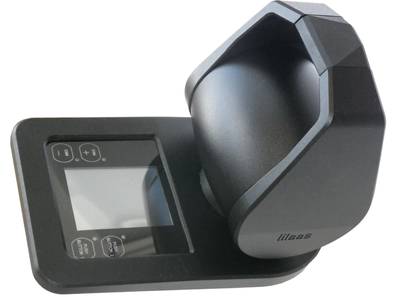 Lilaas, a global manufacturer of control levers and joysticks for the maritime and offshore industries, is launching its new electronically-controlled LO1 lever range at SMM in Hamburg.
The LO1 range marks a major technological step forward for the company and for the industry itself. The range incorporates advanced software solutions and a digital display screen and brings together the functionality of multiple joysticks or levers into a single unit. In addition, a wide range of different functions including tension and force feedback can be programmed to meet individual customer requirements. "All-electric levers like the LO1 series are the future," says Lilaas sales and marketing manager Terje Akerholt. "Everything a customer needs can be pre-installed within the lever structure, and only a very shallow cut-out beneath the lever is required. This is putting us right at the cutting edge as far as control technology development is concerned."
Lilaas has paid particular attention to the design of the new lever and is emphasising its unique aesthetic appearance in an industry where conventional levers have all looked the same until now. Optional colour and engraved switch text in the event of backlight failure are particular features of the new design. The built-in TFT LCD display shows the position of the lever and feeds back information from the ship's systems that are being controlled. It is a key feature of the design. The display screen also allows settings to be easily configured by the user to suit individual preferences much more easily than in the past.
According to Lilaas, the fact that the display is an integral part of the lever's structure makes the LO 1 class levers easier to use, as all the information required by the operator is available in one place. The levers have also been designed to ensure a high degree of redundancy in the event of technical problems, and feature capacity touch switches, with up to four for azimuth or single controllers and up to eight covering a double controller.
The switch text has been engraved on the lever as an added precaution against electrical failure. Other features of the LO1 range include an isolated analogue and emulated potentiometer output, an isolated back-up system and an analogue dimming input. Lilaas is marketing a core design platform for the LO1 series, with different models available for azimuth, thruster or propulsion control, and a range of options to facilitate customisation. These include a 4-20ma current loop, relay outputs, display graphics, USB Interface, El motors, force feedback and the possibility of having either CAN bus, Profibus or Ethernet interfaces.